Belli Maintenance Industrial Tank Coating Services
---
Water and Fuel Tank Restoration for Enhanced Life of Your Assets
Water and fuel storage tanks are generally made of steel and are susceptible to corrosion. A special coating can prevent them from getting rusted and damaged. At Belli Maintenance, we take great pride in our water and fuel tank restoration service. For us, tank coating is not just another job but an opportunity to provide commendable service that you expect from a premier tank coating company.
Water and Fuel Tank Restoration Service for Any Size Or Any Type
With years of experience in the field, we are confident to deliver excellence in every job that we take up, regardless of the type of the tank or the size. We manage commercial and industrial tanks with an eagerness that brings us new challenges and prospects to demonstrate our service quality and proficiency. We keep your specifications in mind while suggesting you the best possible solution for fuel tank restoration. And we do our best to surpass what you expect from our company.
Water and fuel tank restoration service from Belli Maintenance provides substantial protection on every inch. It ensures that your asset is always in its best shape. You can expect an increased life expectancy of your fuel and water tanks.
How is Fuel Tank Restoration Done?
Fuel tank restoration involves applying a lining made of epoxy that is applied at a lower temperature. We have sworn to protect the interior of your tank, and keep your business and property at its best and functional health. Thus, we ensure that our service is reliable enough to keep your industrial storage tanks weather-resistant and protected from other structural damages.
How Do We Work at Belli Maintenance?
Our water and fuel tank restoration service is not just a service that we offer, but a passion that we pursue every day. We maintain an excellent industry standard to make our service much more competent than other service providers, and ultimately beneficial for our clients.
To us, the first and foremost thing is to manage a professional and quality relationship every step of the way. And we make sure our clients are updated about every detail of a tank coating service. Taken from generating the expected cost, budgeting to executing our service, our team helps you in every step with intensive attention and care.
We don't just get hired, coat, and leave, but we make sure that our clients are delighted with what we did.
One of a Kind Service Providing You A Personalized Experience
We understand that every company has its specialized needs and challenges. Thus, our quality fuel and water tank coating services are not the same for all. We offer a tailor-made solution and pricing for each company contingent upon their requirements. We appoint our highly skilled professionals to manage each of our jobs with ultimate protection and safety. Don't wait for damages to the surface! Call Belli Maintenance and Tech Industrial & Roof Coatings (TIRC) at (860) 642-4692 for preventive coating for your industrial storage tanks.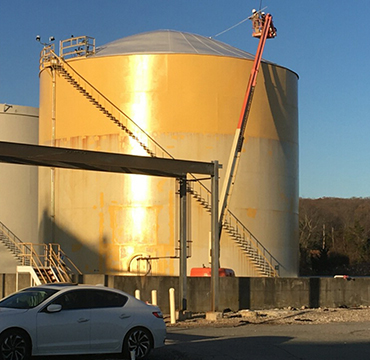 TRUSTED PARTNER
---